Video & Photography (click on any thumbnails to enlarge or open videos)

Updated: Feb '10

Click here to better view this site

I've never been much of a photographer, owning only digital cameras, beginning with an awful Kodak DS810, followed by the lovely Pentax Optio-S, Canon 300D, two cheap 2MP Kodaks. What interests me most is panoramic and stereo photography.

The Panoramas were put together from as many as 12 photographs with the phenomenal and affordable PTGUI. The *stitchers* bundled with digital cameras are no match for PTGUI; it's a stretch to call them stitchers, unless a look of Frankenstein appeals to you. The original panoramas are as wide as 15,000 pixels; these are reduced copies. But hold on, forget PTGUI, now there is AutoPano! It's better and it's so simple to use - panoramas are a snap.

Stereo photographs with still subjects, mountains for instance, need no special equipment other than a camera and taking two pictures, the second by moving to one side a distance commensurate with the distance to the subject. Live subjects require two cameras that are synchronized. I achieved this with two 100$ Kodak 2MPs, but the synchronization was mechanical as when I looked into electrically doing so inside the cameras, it was not practical, and both cameras had different activation delays for an unknown reason. Unfortunately, one camera was stolen. Loreo manufactures stereo lenses that mount directly onto a DSLR (see below) - I purchased one for my 300D. The lens are simple and small in diameter, leading to a high F/ratio and requiring much light. A good and low cost viewer is the Loreo lite paper folding unit with plastic lenses. I built my own stereo front surface mirror device which greatly enhances the quality of view (see below) - breathtaking! Both outside mirrors are adjustable to account for disparate image centers. More stereo images here or by clicking on my mirror contraption below. I've also used this device to view stereo video which I've taken through two identical video cameras and edited together into an HD movies with Vegas 8 [1440 x 480, side by side 720x480s]. Click here or on the steam tractor below.

In spring 2008, I purchased an excellent Sony HDR-SR11 camcorder with true 1920-1080i resolution, and a Merlin steadicam to supplement it. HD movies are here.
Bush flowers at the Tenerife Norte airport in the Canary Islands where the largest aviation accident occurred when two B747s collided (KLM & Pan AM) on the single runway in the fog.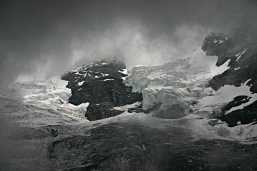 Famed Swiss Alp Eiger mountain flank in the clouds where a cog train travels 6 kilometers into the core of the massif, and through 3 mountains (Eiger, Munch & Jungfrau) to the terminus at 12,000 feet, 1000 ft or so shy of the tallest peak (Jungfrau).

Tenerife, Canary Islands single 13,517 feet mostly dormant volcano where a road was cut through a few century old lava run; my yellow carbon dioxide pumping used rental that got towed a few hours later, 8000 feet lower near sea level.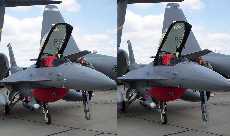 F16 dual camera stereo image at airshow in Berlin.

Famed red roof Tadoussac hotel at the Saguenay river's mouth on the south shore of the Saint Lawrence river in Quebec.

Strange penile plant in the coronal forestal of Tenerife, some 7000 feet from sea level.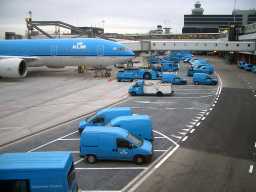 Schipol airport KLM equipment, irresistible from the jet way on a cloudy day.
Art Deco steam roller spotted in Taipei, Taiwan. Bus onlookers thought I was a silly foreigner snapping pictures of this rusting hulk.


Wonderful Bryce Canyon in Utah, part of the Colorado plateau, where Ebony Bryce was supposedly quoted as saying 'Helluva place to lose a cow'.

Coronal Forestal of Tenerife, Canary Islands, on a quite foggy day with no one around.
Saint Laurent boulevard roof top panorama of Montreal SkyLine shortly after sun down.


Kitchen view of end of autoroute in Santa Cruz de Tenerife, Canary Islands.
Control Ecological Zone prelude to dusk at Bras Coupe park, Quebec. This is actually from S. Hastie; I can't take credit for the lovely colours.

Tadoussac ferry in Quebec, Canada. A panorama of course!
I like the following photograph because the snow softens details and deceives the eyes into seeing the buidlings as small models perhaps on a train set!