About the author

Updated: Nov 2011

Born, raised and living in the
Montreal
area, a product of French and English parents, I enjoy electronics, programming, Astronomy, anything science, reading Science Fiction, movies, dining, tractors, traveling, hiking. Bachelor in Physics and another in Electrical engineering from
McGill
university, employed at
CAE
on flight simulators, specifically flight controls.

Click here to better view this site
Here is the Canadian Carry pimped out with parts from the red Filipino Carry. Also had installed front and back 2" hitches to tow/be towed and for front/rear winch (4x4).

While in the Philippines, I fell in love with these diminutive 3 cylinder, 660 CC, 4x4 Suzuki trucks. They're basic but fun to drive. I had a 1998 red one in Pinoy land I bought from
Exarich/Exacab
in Manila (Quezon city), but finally sold it. Back in Canada, I purchased a modified 1994 extended cab with 2" lift kit and applied a vinyl camouflage pattern (by Graphic Styles 514-550-8250). I shipped the bumpers and canopy via OddBallAuto from the one in the Philippines to trick/pimp it out some more. 330 km on 26 liters, it falls 20% short of my Turbo Diesel 1.9L Jetta, and some 500 lbs lighter - not efficient!
If you're interested in purchasing same, the white one was shipped from Japan to the Philippines and modified by
japanese4x4minitruck
(S. Hiro), who then shipped it to vendor
Oddballauto
(John Davidson) near Casselman Ontario. There is also a reliable distributor in Quebec
Mini4x4
and many more across Canada. Expect 6 to 8K$ for one, despite their 15+ year age, due to costly shipping, half price in the Philippines. The extended cab, although a hassle to modify, is a god send for tall folk like moi.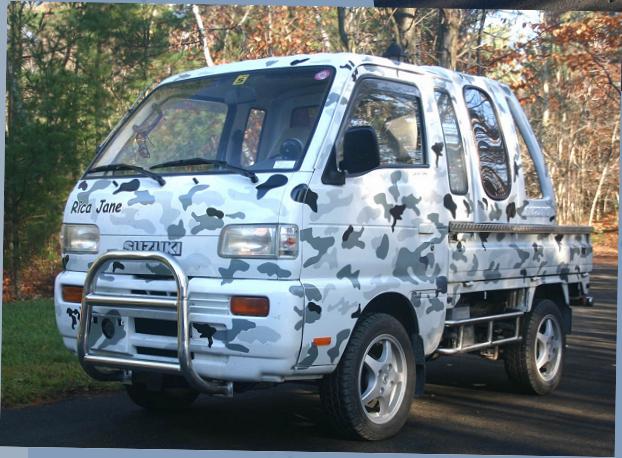 Hard to see, but these two lower photos show the hitch installation - good solid mounting to the body is in order so as to not rip things apart with the winch or while towing.